Landscape Drainage Systems in Middletown

Proper drainage is critical in every landscape design, which is why our expert landscapers in Middletown are available to install landscape drainage systems. Without one installed, water may pool on your property, which can create problems like flooding, erosion, and more. If you've invested in a beautiful landscape or hardscape, don't let water damage ruin it! Instead, turn to the professionals at Delaware Dreamscapes to install an adequate system that suits your property and its features. We want to help protect your home's landscape, so contact our team to discuss your project.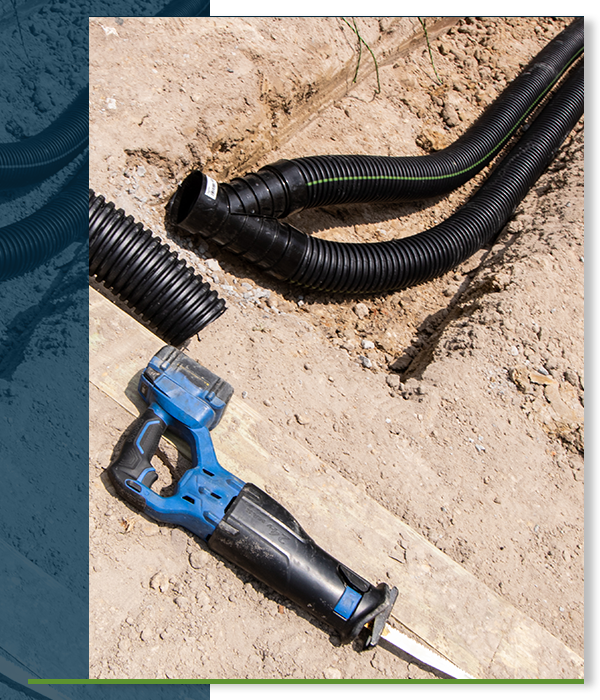 What Type of Outdoor Drainage System?
If you want to maintain the health, appearance, and functionality of your landscape or hardscape, a landscape drainage system is a must-have feature. Water damage can cause irreparable damage to your property and its landscaping elements, so you should be sure to have a dependable system installed. At Delaware Dreamscapes, our team can evaluate your property and determine which type suits your needs. It's our goal to help you maintain your landscape as your outdoor oasis, so we'll ensure it's a perfect fit.
French Drains
French drain landscaping is primarily used for preventing soil erosion and water damage. French drains are highly effective in directing water away from low-lying areas, which reduces the likelihood of pooling. Our team of experts can design and install French drains to solve any drainage problems in your yard.
Downspout Burials
Downspout burials are a type of drainage solution that collects stormwater from your roof and carries it away from your foundation. This system keeps the water away from your home's foundation, hardscaping, and landscaping while also providing a cleaner appearance to your outdoor space.
Flo-Wells
Flo-wells are a type of compact drainage system that collects water and diverts it away from your property. Flo-wells are an excellent choice if you don't have much space in your yard or if you want a discreet drainage solution.
Catch Basins
Catch basins are ideal for preventing water damage in large outdoor spaces. They are typically installed in areas with heavy foot traffic, such as patios or decks. Catch basins provide an easy way for water to escape and prevent it from pooling.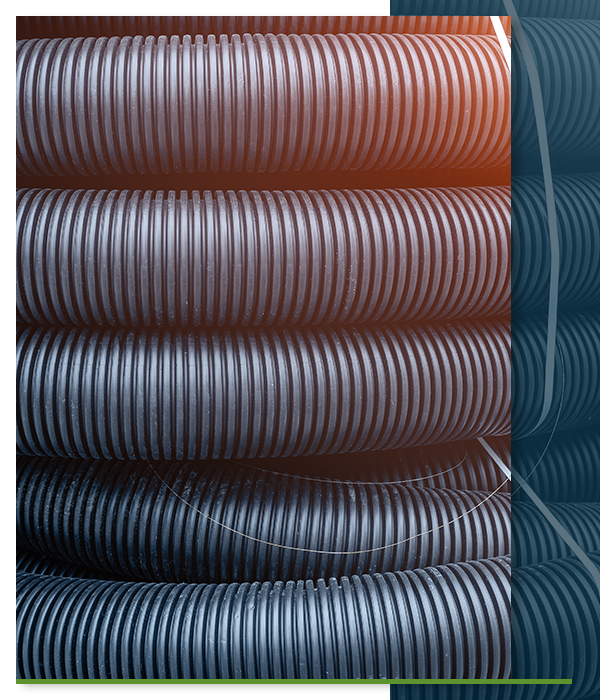 How Water Damage Can Affect Your Landscaping and Hardscaping
If your Middletown property doesn't have a proper drainage system, your home and its hardscaping and landscaping features are vulnerable to water damage. After investing money into creating the perfect home and outdoor space, you don't want to let heavy rainfall destroy it all! Instead, contact the leading landscaping and drainage company serving New Castle and Kent counties, as well as the Chester area. At Delaware Dreamscapes, we'll work with you to design a yard drainage solution that keeps your property safe. The following are just a few types of water damage effects that we can help prevent:
Plant Damage — Pools of water can be devastating to plants, leading to poor growth and even death. Plant roots can become waterlogged, making it difficult for them to properly absorb and distribute nutrients from the soil.
Soil Erosion — Excess water can cause soil erosion, which may result in the loss of topsoil and the exposure of rocks, roots, and clay. This leads to uneven terrain, slippery surfaces, and a decrease in plant growth.
Foundation Damage — Long-term exposure to water can cause structural issues in the foundation of your property. When water accumulates near the foundation, it can weaken the integrity of the concrete, which invites cracks and leaks.
Hardscaping Damage — Paved walkways, brick patios, and other hardscape design features can shift or become dislodged due to the impact of water, causing uneven surfaces and hazardous tripping hazards.
Maintain the Safety of Your Middletown Landscaping and Home
An adequate backyard drainage system is essential if you want to protect your home and its landscaping. You've made a worthwhile investment to improve the look and value of your property, so keep it safe from heavy rainfall and water damage. Thanks to landscaping and drainage services from Delaware Dreamscapes, you can maintain your landscape, hardscape, and home all at once. Contact our team today to protect your property with the right landscape drainage