Middletown's Leading Landscape Lighting Company

When you invest in the perfect hardscape or landscape features for your home, you shouldn't leave it in the dark! Instead, turn to Delaware Dreamscapes for high-quality outdoor lighting solutions that can keep your space illuminated at all hours of the day. Whether you want to install backyard string lights, LED driveway lights, or decorative patio lights, our team is here to help. We believe that by adding additional lighting to your outdoor space, you can create a safer and more welcoming environment, so contact us today to get started.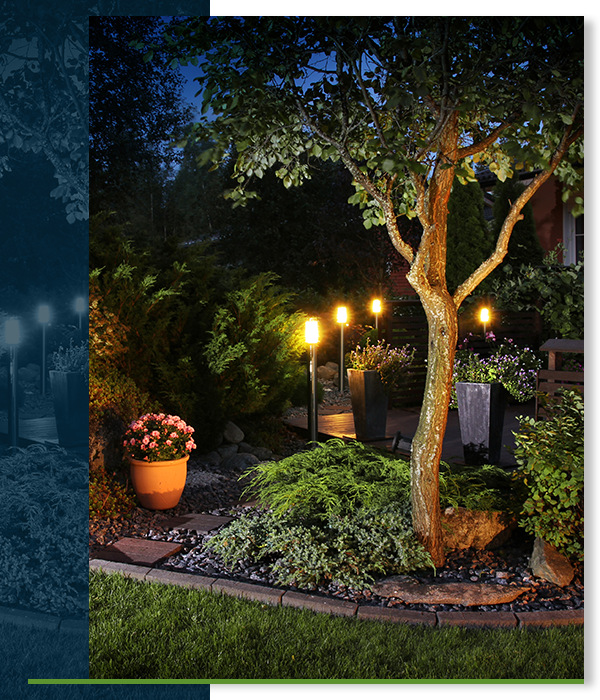 Different Types of Landscape Lighting
If your landscape is currently without light, there are many different types of landscape lighting that you can install. At Delaware Dreamscapes, we can discuss your needs and determine which types will best suit your property. It's our goal to create an outdoor lighting solution that enhances the beauty of your landscape while also creating a more inviting, comfortable atmosphere for your family and guests. Whether you have your own ideas or need a couple of suggestions from our team, you can count on our landscape lighting company for the best service in Middletown.
Pathway Lighting
Pathway lighting is an excellent option for illuminating paved paths and walkways. These lights provide a subtle glow that guides visitors through your outdoor space while increasing safety and security.
Accent Lighting
Accent lighting is ideal for highlighting specific features of your landscape, such as trees, water features, or garden beds. These lights can add a dramatic or subtle effect, depending on your preference.
Deck and Patio Lighting
Deck and patio lighting is perfect for creating an inviting and enjoyable outdoor living space. These lights can be used to illuminate outdoor dining or seating areas, making them ideal for homeowners who want to host celebrations, get-togethers, and other events that will last through the evening.
Floodlights
Floodlights are an excellent option if you want bright lights and increased security, as they provide a broader beam of light that illuminates larger areas. They can be used to light up walkways, driveways, and dark corners of your yard.
Driveway Lights
Driveway lighting is an essential part of your landscape lighting design, as it provides a safe environment by illuminating your driveway and entrance. Whether you're looking for practical options like overhead lighting or more decorative choices like lanterns, we can help you create a custom lighting solution for your driveway.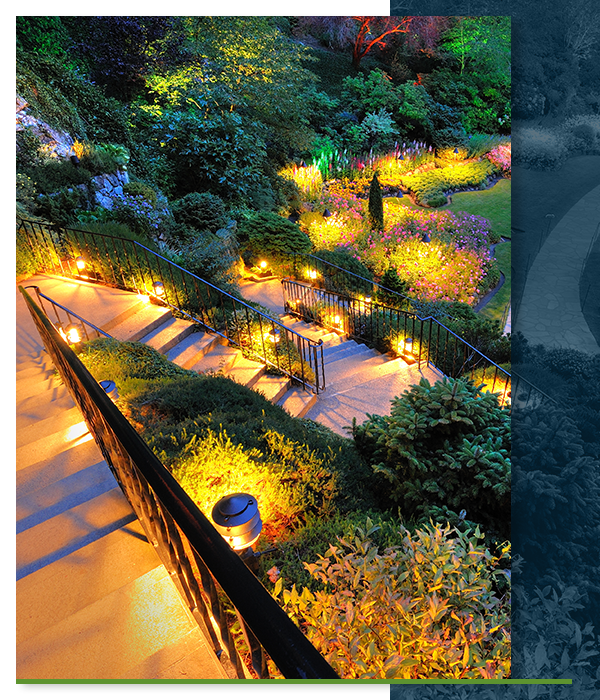 Reasons To Install Low-Voltage Landscape Lighting
If you've already invested in upgrading your landscape or hardscape design, it only makes sense to install low-voltage landscape lighting. After all, it offers many benefits that can improve your home's aesthetics and security, as well as your landscape's functionality. At Delaware Dreamscapes, it's our goal to help our clients' front and backyards reach their fullest potential, so we always recommend installing lights throughout their properties. The following are just a few of the reasons why:
Increases Home Security — Outdoor lighting is a significant deterrent to potential intruders, as it illuminates dark areas around your home and creates a safer, more secure environment. The lights can be programmed to come on and turn off at specific times, ensuring your property is always protected.
Energy Efficient — Nowadays, landscape lighting is typically energy-efficient, thanks to LED bulbs that lower your power bills and last longer than traditional lighting options.
Improves Landscape Functionality — Landscape lighting can transform your outdoor space into a fully functional area for entertaining guests, relaxing after a long day, or working outside. With the right lighting, you can create a cozy atmosphere that matches your aesthetic and creates a comfortable space and environment.
Turn To Our Landscape Lighting Company
Whether you want to install front yard lighting or decorative patio lights, the team at Delaware Dreamscapes is here to help. We'll listen to your project needs and determine an outdoor lighting solution that will suit your space. We understand that the right lighting can increase curb appeal, safety, and ambiance, so it's our goal to install the perfect low-voltage landscape lighting to enhance your property. Contact us today, and brighten up your outdoor space!